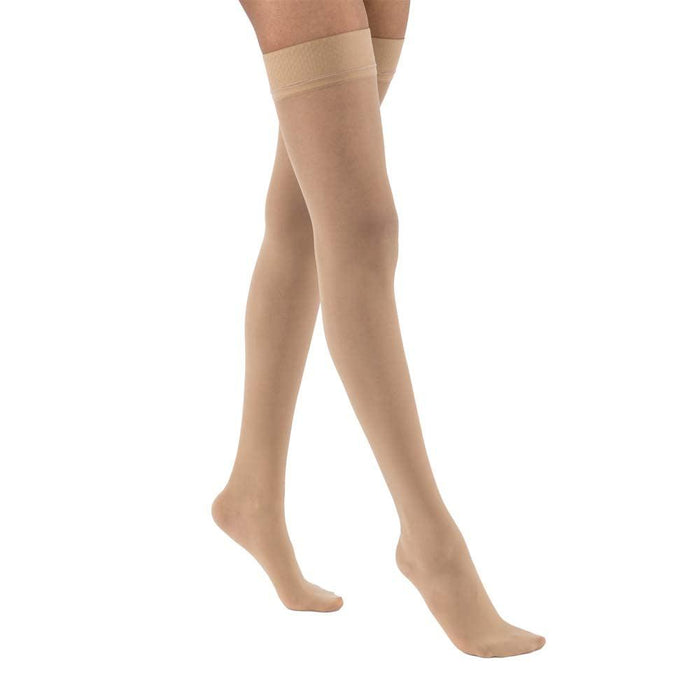 JOBST UltraSheer Compression Stockings, 30-40 mmHg, Thigh High, Sensitive Band, Closed Toe
Availability:
in stock, ready to be shipped
Availability:
in stock, ready to be shipped
Availability:
Out of stock
Availability:
Out of stock
Original price
$110.99
-
Original price
$110.99
JOBST UltraSheer is the ultimate medical compression stocking when it comes to today's discerning female. Designed specifically for women who prefer a formal look, JOBST UltraSheer offers unparalleled sheerness in a lightweight design, ideal for daily activities or more formal occasions. The epitome of style, fashion and function only you will know the stocking you are wearing has medical benefits.
Sheer look is fashionable and functional, gives you the look of regular stockings but with a medical benefit.

Sensitive thigh band with soft silicone yarns interwoven in the top band to help you stay cooler and drier, and imprint-free.

JOBST Advanced Comfort wicks moisture and helps provide a cooler, comfortable wear.

High stretch capabilities for easier donning and better comfort.
Uses: Severe varicosities, severe edema, lymphatic edema, chronic venous insufficiency, post-sclerotherapy, helps prevent recurrence of venous ulcerations, manages active venous ulcerations, helps prevent post‑thrombotic syndrome, manages manifestations of PTS, post-surgical, orthostatic hypotension.
Contradictions: Do not wear compression legwear if you have any of the following conditions: severe arterial insufficiency, uncontrolled congestive heart failure, skin infections and red, sensitive skin, hardening of the skin or untreated leg ulcers. Consult your physician for advice if you are or have any of the following: bedridden (non-ambulatory), impaired sensitivity of the limb, sensitivity to the garment material.
| | | |
| --- | --- | --- |
| Size | Color | BNR |
| Small | Natural | 7768808 |
| Medium | Natural | 7768809 |
| Large | Natural | 7768810 |
| X-Large | Natural | 7768811 |
| Small Petite | Natural | 7768824 |
| Medium Petite | Natural | 7768825 |
| Large Petite | Natural | 7768826 |
| X-Large Petite | Natural | 7768827 |
| Small | Classic Black | 7768800 |
| Medium | Classic Black | 7768801 |
| Large | Classic Black | 7768802 |
| X-Large | Classic Black | 7768803 |
| Small Petite | Classic Black | 7768816 |
| Medium Petite | Classic Black | 7768817 |
| Large Petite | Classic Black | 7768818 |
| X-Large Petite | Classic Black | 7768819 |