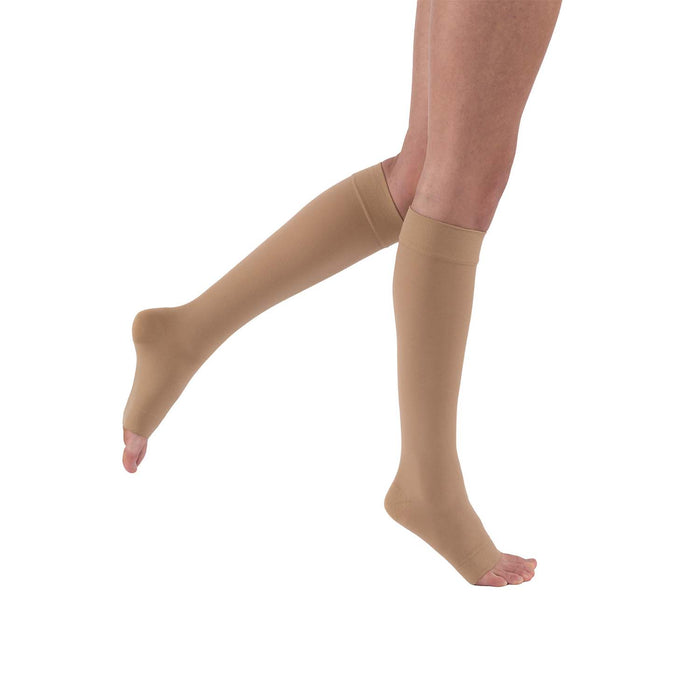 JOBST Relief Compression Stockings 20-30 mmHg Knee High, Silicone Dot Band, Open Toe, Beige
Availability:
Out of stock
Availability:
Out of stock
Availability:
Out of stock
Availability:
Out of stock
Availability:
Out of stock
Availability:
Out of stock
Original price
$73.60
-
Original price
$73.60
JOBST Relief is an economical compression stocking that provides physician recommended gradient compression to help treat symptoms commonly associated with vein disease.
ENHANCED COMFORT AND FIT: The knit-in anatomical shape of these compression stockings provide a seamless circular design, ensuring a comfortable and tailored fit that conforms to the contours of your legs. The seamless construction reduces irritation and chafing, promoting a more comfortable wearing experience.

SKIN-FRIENDLY AND BREATHABLE: Made from skin-friendly materials, these stockings prioritize your comfort. The fabric is air-permeable, allowing your skin to breathe and preventing excess heat and moisture buildup. This feature helps to keep your legs dry, cool, and comfortable throughout the day.

DURABILITY FOR LONG-LASTING USE: With a reinforced heel, these compression stockings offer exceptional durability. This reinforcement enhances the longevity of the stockings, making them ideal for regular and long-term use. You can rely on them to withstand daily wear and maintain their quality over time.

VERSATILE INDICATIONS AND USES: Suitable for managing moderate to severe varicosities, moderate edema, and superficial thrombophlebitis, these compression stockings serve a wide range of indications and uses. Additionally, they are beneficial for post-surgical recovery, post-sclerotherapy treatment, and preventing the recurrence of venous ulcerations. Their versatility makes them a valuable tool for various medical conditions and treatments.

IDEAL FOR PREGNANCY SUPPORT: Particularly helpful for pregnant women experiencing moderate to severe varicosities, these compression stockings provide support to alleviate discomfort and promote healthy blood circulation in the legs during pregnancy. The open toe design allows for better ventilation and flexibility, accommodating the changing needs of expectant mothers while maintaining compression effectiveness.
| | | | |
| --- | --- | --- | --- |
| Color | Size | BNR | MPN |
| Beige | Medium | 114748 | 7805112 |
| Beige | Large | 114749 | 7805212 |
| Beige | X-Large | 114750 | 7805312 |
| Beige | Large Full Calf | 114751 | 7797512 |
| Beige | X-Large Full Calf | 114752 | 7797612 |
| Beige | Medium Petite | 114760 | 7540512 |
| Beige | Large Petite | 114761 | 7540612 |