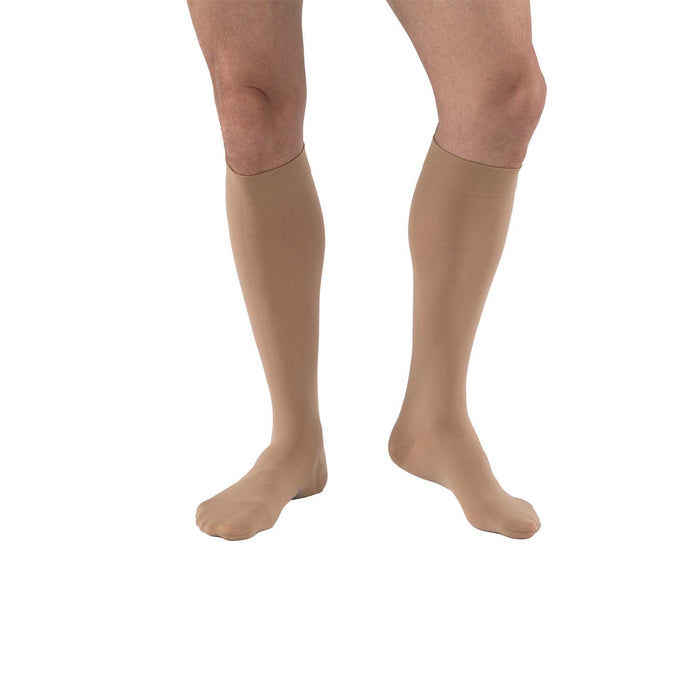 JOBST Relief Compression Stockings 20-30 mmHg Knee High, Silicone Dot Band, Closed Toe, Beige
Availability:
Out of stock
Availability:
in stock, ready to be shipped
Availability:
in stock, ready to be shipped
Availability:
Out of stock
Availability:
Out of stock
Original price
$73.60
-
Original price
$73.60
JOBST Relief is an economical compression stocking that provides physician recommended gradient compression to help treat symptoms commonly associated with vein disease.
ENHANCED COMFORT AND FIT: The knit-in anatomical shape and seamless circular knit provide a precise and contoured fit, ensuring optimal comfort throughout the day.

SKIN-FRIENDLY AND BREATHABLE: Made with skin-friendly materials, these stockings prioritize your comfort and promote healthy skin. The air-permeable fabric allows proper airflow, preventing excessive moisture buildup and keeping your legs cool and dry even during extended wear.

DURABILITY AND LONGEVITY: The reinforced heel design enhances the stockings' durability, making them resistant to wear and tear. This feature ensures that they maintain their shape and compression effectiveness over an extended period, providing long-lasting support for your legs.

VERSATILE USE: These compression stockings offer a wide range of indications and uses, making them suitable for various conditions. From moderate to severe varicosities and edema to post-surgical recovery and superficial thrombophlebitis, they provide comprehensive support for different leg-related issues.

PROMOTES VENOUS HEALTH AND PREVENTS COMPLICATIONS: With a compression level of 20-30 mmHg, they effectively assist in managing various conditions, including varicosities, edema, venous ulcerations, and post-sclerotherapy care. By improving blood circulation and reducing venous stasis, they aid in preventing complications and promote venous health overall.
| | | | |
| --- | --- | --- | --- |
| Color | Size | BNR | MPN |
| Beige | Medium | 114743 | 7805111 |
| Beige | Large | 114744 | 7805211 |
| Beige | X-Large | 114745 | 7805311 |
| Beige | Large Full Calf | 114746 | 7797511 |
| Beige | X-Large Full Calf | 114747 | 7797611 |