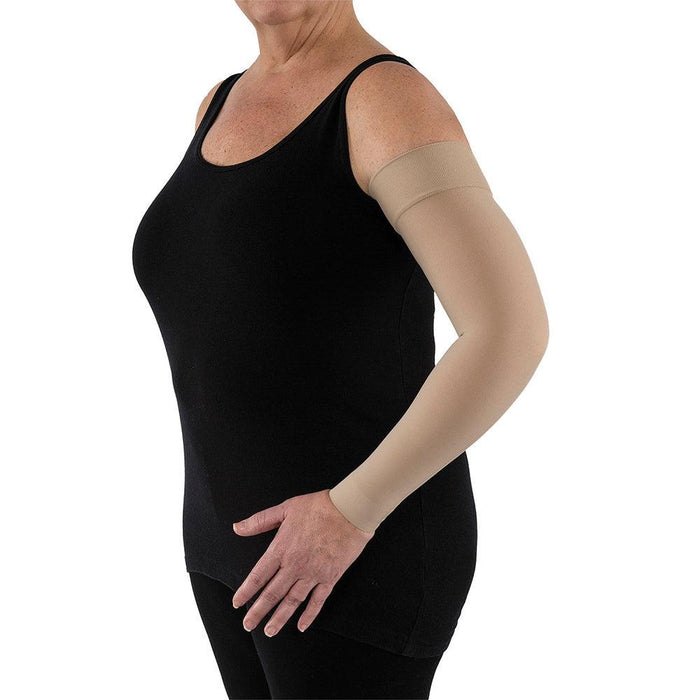 JOBST Bella Lite Arm Sleeve with Silicone Dot Band 20-30 mmHg, Beige
Availability:
Out of stock
Availability:
Out of stock
Availability:
Out of stock
Original price
$63.94
-
Original price
$63.94
JOBST Bella Lite Ready-To-Wear Upper Extremity Garments provide gradient compression to assist in the management of mild to moderate lymphedema and other edemas. Garments are lightweight, attractive, comfortable and are available in a wide range of sizes to ensure a proper fit for almost every patient. 
Soft and air permeable.

Lightweight, knit construction.

Fits a wide range of arm and hand shapes.

Reduced compression at the wrist provides an effective and comfortable fit when the Armsleeve and Gauntlet are worn together

Easy to put on, comfortable to wear.
Uses: Edema, lymphedema. Compression garments can also be used for: Phlebitis, post-thrombotic syndrome, vascular malformations, post-liposuction.
Contradictions: Arterial insufficiency, cutaneous infection, dermatitis in the acute phase, wet dermatosis, conditions where increased venous and/or lymphatic return is not desired.
| | | | |
| --- | --- | --- | --- |
| Size | Color | REF | BNR |
| Small | Beige | 101419 | 7860811 |
| Medium | Beige | 101420 | 7861311 |
| Large | Beige | 101421 | 7861411 |
| Small Long | Beige | 101334 | 7860805 |
| Medium Long | Beige | 101335 | 7861305 |
| Large Long | Beige | 101336 | 7861405 |